Burning ambition recognised
Sep 10, 2011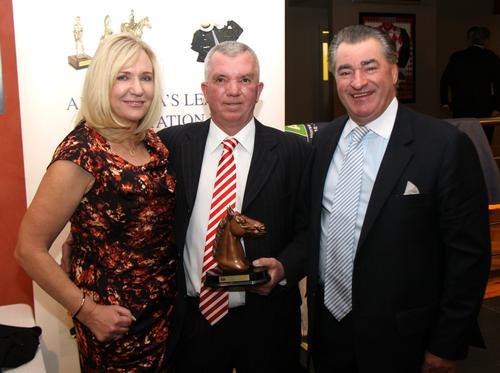 THE Bendigo Trainers Association Awards evening conducted at the Bendigo Jockey Club's - Silks Function Centre on Saturday, September 10 recognised Wingrove Park's owned and bred Sparks Burn as the 'Bendigo Advertiser Two-Year-Old of the Year'.
The son of Niello lined up on three occasions during the 2010-11 season which included one victory and black-type earning in the St.Albans Stakes at Mooneee Valley in mid March.
After being sent for a spell, Sparks Burn returned with two luckless efforts over 1000 metres at Caulfield at Saturday level, finishing less than 3½ lentghs behind the tallented Hot Spin (Matthew Ellerton & Simon Zahra) on both occasions.
Sparks Burn will head to the paddock with an eye towards races into the New Year.
C.E.O of Wingrove Park Joseph Vella accepted the award and thanked Shane Fliedner for all his hard-work and his own team at Wingrove Park behind him, helping with there racetrack success.
The night was a great sucess with over 185 people in attendence. Wingrove Park trainer Shane Fliedner took out the 'Landmark Middle Distance Horse of the Year' as-well with Carbon Trader, whilst Shaun Dwyer-trained Anudjawun took out the overall 'firstpoint ATM Bendigo Trainers Association Horse of the Year' title.
The award made up for a great weekend, with half-sister Sparks Alight going onto victory the following day at the Bendigo track.
Photo Courtesy: Morg's Sportz Photograpy · Peter Morganti ©