---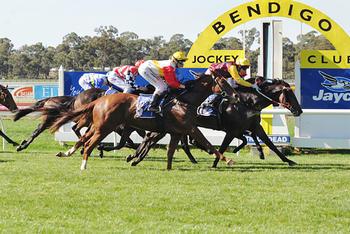 Sire: Bel Esprit
Dam: Naturalist
Colour: Bay or Brown
Gender: Gelding
Age: 10 year old
Foaled: Sep 4th, 2007
Country: Australia
Trainer's Name: Andreas Schütz
---
Career Record: 17-1-0-0
Prizemoney

$184,060.00

Wins

5.9 %

Place

0.0 %
---
Pedigree
WIN ESPRIT (AUS)

Bay or Brown gelding
Foaled in 2007

---

| | | | |
| --- | --- | --- | --- |
| Sire | Royal Academy | Nijinsky | Northern Dancer |
| BEL ESPRIT (AUS) | | Crimson Saint | Crimson Satan |
| 1999 | Bespoken | Vain | Wilkes |
| | | Vin d'Amour | Adios |
| Dam | Palace Music | The Minstrel | Northern Dancer |
| NATURALIST (AUS) | | Come My Prince | Prince John |
| 1992 | Tessuti | Sackford | Stop the Music |
| | | Souba | Taine |

---

BEL ESPRIT (AUS) (Bay 1999-Stud 2003). 8 wins-5 at 2, BTC Doomben Ten Thousand S., Gr.1. Leading Aust. Sire of Winners 2012-13. Sire of 909 rnrs, 614 wnrs, 23 SW, inc. Black Caviar (VRC Patinack Classic, Gr.1), Bel Sprinter, Bel Mer, Keen Array, Sweet Sherry, Afleet Esprit, Se Sauver, Gabbidon, Vivacious Spirit, Iconic, Angels Beach, City of Song, Honey Flower, Loveyamadly, Audacious Spirit, Oregon Spirit, Strike the Tiger, Peach Tree, etc.

1st dam

NATURALIST, by Palace Music. Raced twice. Sister to Wailing (dam of TAWNY RUN), three-quarter-sister to NATURALISM, CRYSTAL PALACE (dam of PALACIO DE CRISTAL). Dam of fifteen named foals, twelve to race, eight winners-

ROYAL SYMPHONY (c. by Domesday). 4 wins-3 at 2-from 1200m to 1600m, A$450,025, to 2017-18, VRC Pin & Win P., L, Taj Rossi Series Final H., L, Gippsland Region 2YO H., 4th MVRC WS Cox P., Gr.1, MRC Caulfield Guineas, Gr.1, Caulfield Guineas Prelude, Gr.3.

Hoodlum (g. by Zeditave). 3 wins at 1600m, A$132,267, MRC Summer Fair H., 2d Bendigo Cup, L, MRC The Age H., VRC Scalzo Food Industries H., Bendigo JC Eliza Park Stud Golden Mile H., 3d MRC St Razzle H., MVRC Valley Events H.

Just Incredible (g. by Zeditave). 7 wins from 1400m to 2100m, MRC St Sidwells H.

Good Music (f. by Primus). 2 wins at 1300m, 1500m, 2d MRC Hardings Hardware H., 3d VRC Spotless P., Ken Cox H.

Diva la Belle (f. by Bel Esprit). 2 wins-1 at 2-at 1200m, 1600m, 2d MRC Begonia Belle 2YO H., 3d MVRC Members Equity Bank H.

Gemset (f. by Kempinsky). Winner at 1600m in Aust.

Win Esprit (g. by Bel Esprit). Winner. See below.

Insiders Favourite (f. by Niello). Winner at 1100m in Aust.

Triksing (c. by Octagonal). Placed at 3 in 2016-17 in Aust.

Nudey Run (f. by Gonski). Placed in 2016-17 in Aust.

Octillion (g. by Octagonal). Placed in Aust.

Quite Canny (f. by Canny Lad). Placed at 2 in Aust.

Silent Spring (f. by Marauding). Unraced. Dam of-

Primitive Man. 5 wins to 1300m, A$162,380, MRC Arthur Gauci H., 2d MVRC Aquanas H., SAJC Stakes Family Day H., 3d VRC Flemington 1840-2014 H.

Silent Man. 2 wins at 1450m, 1600m, A$81,410, 2d MRC Cable Beach Club Resort & Spa P., 3d MRC Swimwear Galore H., SAJC Anspach Removals & Storage H., VRC Lanec Services H.

Pandaconi. 4 wins at 1100m, 1200m in Aust.

Silentski. Winner at 1150m in 2016-17 in Aust.

Jorocca (f. by Octagonal). Unraced. Dam of-

Blucara. Winner at 1600m, 2d BRC Programmed Property Services H.

Koi Fish. 3 wins to 1450m in Aust.

Milenio. Winner at 1250m in Aust.

Keinbah. Winner at 1600m in Aust.

Demare (f. by Dehere). Unraced. Dam of-

Knowing. 2 wins at 1400m, 1600m, 3d Hawkes Bay Hastings Heart of Hawke's Bay H.

Vital Stage. Winner at 2200m in NZ.

2nd dam

TESSUTI, by Sackford. 3 wins-2 at 2-to 1400m, A$90,625, VATC Dalgety S., Gr.3, QTC Sir Douglas Wadley H., L, MVRC Sunbeam H., 2d VATC Tranquil Star S., L, VRC Lone Pine H., 3d STC Queen of the Turf S., Gr.3, VATC Glen Eira H. Half-sister to ZEPHYR SOUBA (dam of NATURALISM, CRYSTAL PALACE, IMPRESSIONISM - OLYMPIC BOY (MAL.)), Mouton Magic (dam of STAR DANCER). Dam of 17 foals, 12 to race, 7 winners, inc:-

Prior Minister. 4 wins from 1200m to 1600m, SAJC Carlton Draught H., 2d SAJC Distinctive Lifestyle H., Billson & Sawley H., 3d SAJC KPMG Tax H.

Pointillism. 4 wins from 1400m to 2200m, BTC Sheraton Noosa Resort H., 2d QTC Sir Wisp H.

Wailing. Unraced. Dam of-

TAWNY RUN (Runyon). 6 wins from 1600m to 2450m, R319,750, Scottsville East Coast H., L, Turffontein Allez France H., L, Vaal Jasmine S., L, 2d Greyville Woolavington S., Gr.2, 4th South African Oaks, Gr.1. Producer.

Wailing Countess. 2 wins at 1250m, 1600m, NZ$475, A$90,470, STC Balmain Leagues Club H., 2d AJC Starplus H., Sadlier H., NSW Tatt's RC Bacardi Breezer P.H. Dam of-

MY SABEEL (Savabeel). 6 wins to 1300m, A$378,765, ATC Toy Show H., Gr.3, Tab.com.au H., Bowermans.com.au H., 2d ATC Sheraco S., Gr.3, 3d ATC Golden Pendant, Gr.3, Triscay S., Gr.3.

Race Record: 17 Starts 1-0-0 A$20,875, HK$42,000.

Winner at 1300m in Aust.